Write in APA Format Fast!

Let Word Be Your Guide.
Need to write an academic paper in APA style?

Have you been told it should be in APA format?
Are APA style and APA format the same?
What is APA style anyway?
APA style tells you the following about your academic paper:
structure: The paper should contain a title page, an abstract, the main body and reference list.
order: The order should be title page first, followed by the abstract, then followed by the main body and then the reference list.
format: The appearance of titles, headers, headings, text, figures, tables, and references should follow the guidelines of the APA style manual.
This website is about the APA format.
Are you a person:

who uses Microsoft Word for academic writing (e.g., reports, essays, theses, dissertations) in APA format,
with an enquiring mind (e.g., what does this Word function do?),
who likes to learn new things (e.g., how to set up a Word style in APA format),
who strives for efficiency (e.g., save time by using a Word style for your academic writing in APA format),
who likes to produce high quality work, and
who is ambitious and wants to succeed in your future career?
By using Microsoft Word as shown in this website, you will:
learn APA formatting: The Word screenshots (see Figure 1 for example) show you the settings required to write in APA format.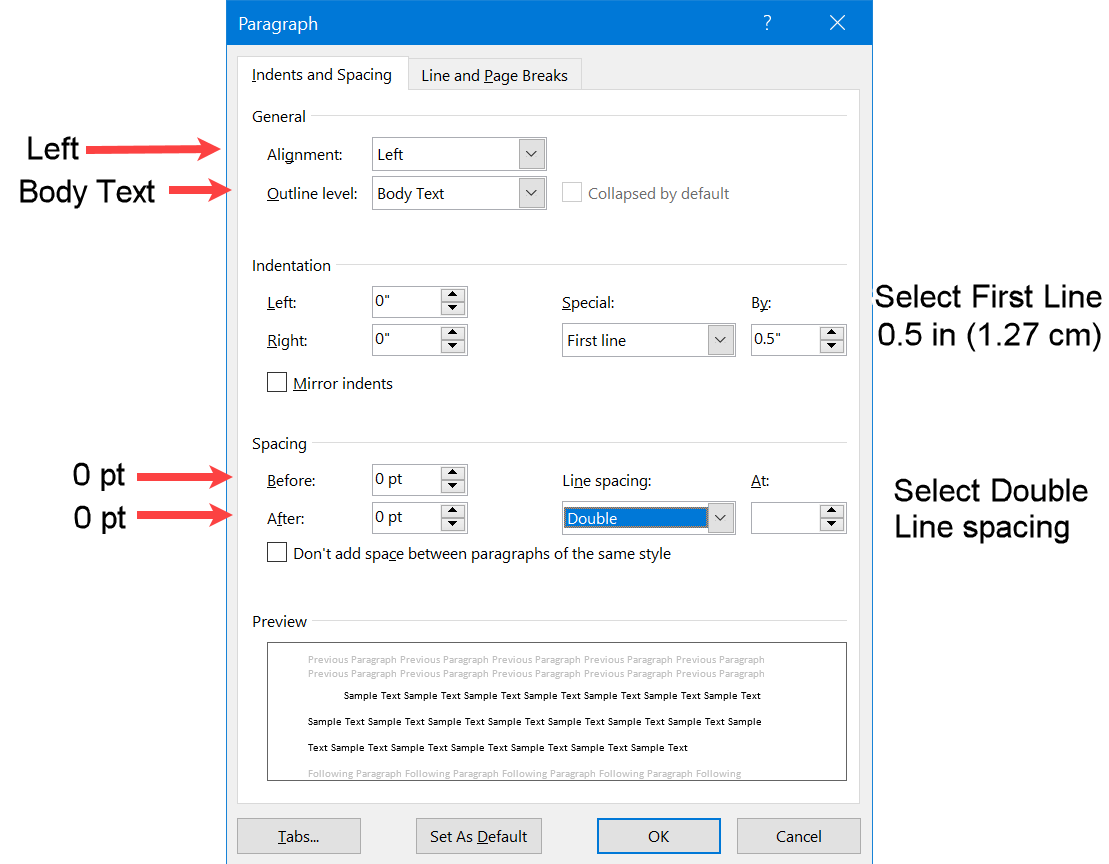 Figure 1: Word settings for a paragraph in APA format
save time: Enter APA format settings from the screenshots instead of looking up the APA format, and then entering the settings in Word.
format your academic writing correctly every time: Set up the correct APA format, and then reuse - even for new Word documents.
improve your chances of success in academia and business: New Word skills will be invaluable in your career.
This website is divided into four parts as follows:
APA format as presented in the Official Guide to APA Style,
additional features,
Microsoft Word functions useful for your academic writing, and
editing your academic writing.
---
Why Use a Writing Style?
Consistency! Your readers, especially your instructors, want consistency of presentation.
Consistency means that everything (e.g., headings, paragraphs, figures) within your paper has the same format (e.g., font type and size, capitalization, line spacing, indents). This applies to your paper, and all your other papers. It applies to other students' papers as well. Their paper should look the same as yours.
Why? The reader (especially your instructor) will be able to concentrate on the contents, and not be distracted by the presentation.
Instructors, who read and mark many, many papers, love consistency of presentation - in this case, APA format.
---
What If You Don't Follow the APA Format? 
If you don't follow the APA format, the instructor could:
accept the paper without comment (unlikely),
accept the paper with a comment to do better next time (possible),
accept the paper but deduct marks (common),
ask for the paper to be rewritten in APA format (possible), or
fail the paper (possible).
As you can see, not following the APA format could be the difference between:
a pass or fail
credit or a pass
distinction or credit
high distinction or distinction
your paper being accepted in a journal
---
Microsoft Word and APA Format
Microsoft Word is a very common word processor used by students in academic writing. But it is also commonly used by business and industry throughout the world.
You will learn valuable Microsoft Word skills while writing your academic papers. These skills will also enhance your career prospects greatly.
These are some of the Word features used in academic writing:
headers
page numbers
sections
table of contents
list of figures
list of tables
indexes
outline
footers
footnotes
endnotes
---
Summary
Microsoft Word is a powerful tool that assists you in many ways with your academic writing.
The time and effort put into learning and using these features will:
help you with APA formatting, and any modifications your instructor may ask for, such as a Table of Contents.
automatically format your writing as required, for example, Times New Roman, size 12, double spaced.
save you time, for example, by automatically updating page numbers.
help you present your work in an academic writing style that makes you look professional.
help you structure your work, for example, using the Outline feature to give an overview of your work.
give you Word skills that will be valuable if you continue a career in academia or have a career outside of academia.
The following feedback is for a Masters thesis (that I edited):
"the content is excellent" - the student had good Word skills and so used their valuable time on research, analysis and presenting their findings instead wasting valuable time finding out how to use Word
"the thesis was very professionally presented" - good use of Word enabled the thesis to be presented  in the best academic writing style.
Knowing how to make best use of Microsoft Word will greatly "help" with your academic writing.