Write in APA Format Fast!

Let Word Be Your Guide.
Do you really want to be researching APA format?
Do you want to spend time looking up APA documentation or searching online for the correct format?
Are you using Word to write your academic paper?
To help you write your your academic paper, I have created Word screenshots with the settings and values required for your work to follow the APA style (seventh edition).
Follow the Word settings and your document will be in APA format.
For example, figure 1 shows alignment, indent and spacing for a paragraph in APA format.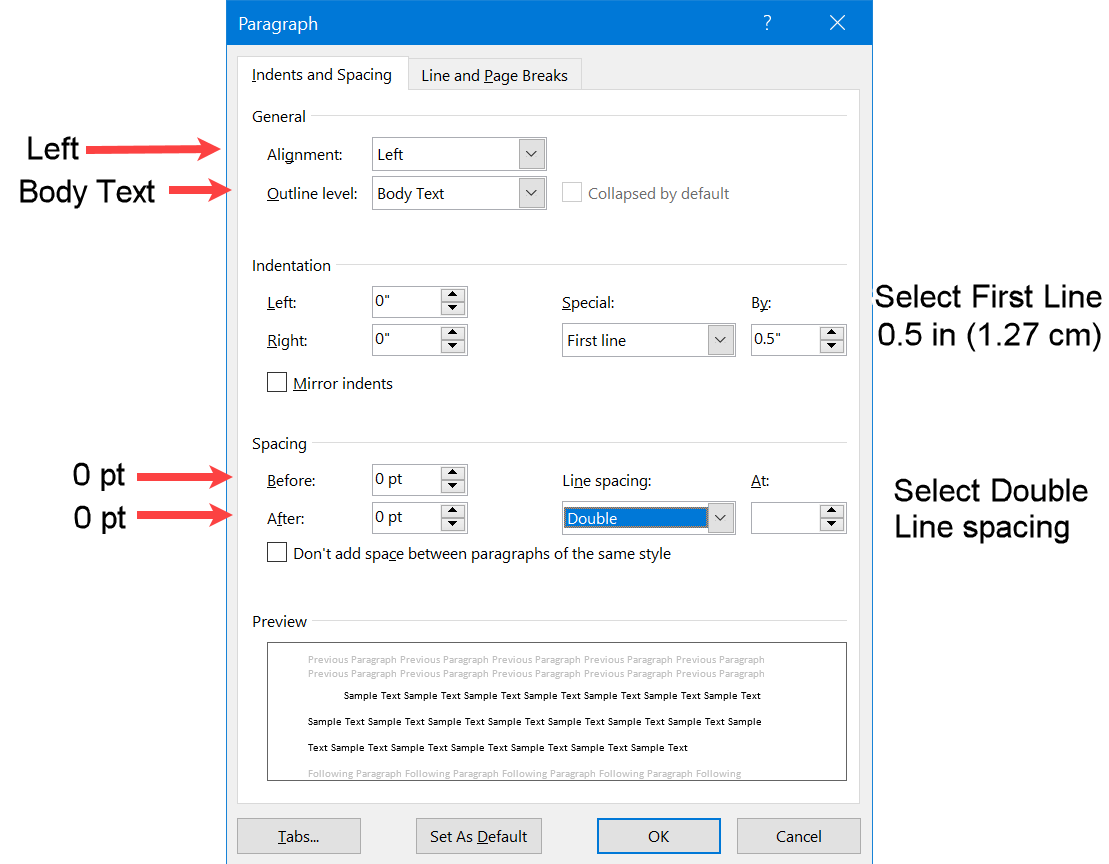 Figure 1: Word settings for a paragraph in APA format
You can see that the paragraph is left aligned but the first line is indented, and that it is double spaced.
This and other screen shots will show you how to format the paragraph in APA format.
However, there is more!
I will show you how to set up your APA format once only (as a style), and then you can reuse it again and again - even for new documents.
What a timesaver if you plan on more academic writing using the APA format!
You could look up the official APA guide, or read the APA format guide from your educational institution.

Or you could find the information you need from the Word screenshots provided at this site.
Additional explanations are provided if you want to expand your knowledge about Word or if you need help on how to use Word.
---
How You Will Benefit
The benefits for you are:
efficiency
Save time - enter the APA format settings as you write in Word instead of looking up the APA format, and then entering the settings in Word.
correct APA format forever
Set up the correct APA format, and then reuse - even for new Word documents.
consistent APA format
Set up the correct APA format, and then apply that format in every situation.
APA formatting knowledge
You will learn by doing.
Greater success in academia and business
You will learn new Word skills that will be invaluable in your career,
---
Common APA Format Tasks
Select which APA format function you want to do and click on the link:
Running Head: student paper, professional paper

Page Numbers: Arabic or roman numerals, font type and size
Title Page: font type and size,  line spacing, page number, running head

Abstract: font type and size,  line spacing, page number, running head

Headings and Subheadings: Level 1, Level 2, Level 3

Paragraphs: font type and size, line spacing, indents
Quotations: block format for the first, and for subsequent paragraphs
---
Word Tips For Academic Writing
Word skills can make a difference to your academic success.
It could be the difference between:
pass or fail
credit or pass
distinction or credit
high distinction or distinction.
your paper being accepted in a journal, or not
 The following feedback is for a Masters thesis (that I edited):
"the content is excellent" - the student used their valuable time on research, analysis and presenting their findings instead of wasting valuable time finding out how to use Word
"the thesis was very well presented" - good use of Word enabled the thesis to be presented  in a professional manner.
There are several features in Word that will make your writing (academic or business) more professional.
Your career success will be helped by knowing how to produce the following in Word:
headers
footers
page numbers
title page
table of contents
list of figures
list of tables
indexes
outline
footnotes
endnotes
See Word tips for valuable skills to enhance your career.
---
Summary
Word can be a powerful tool that assists you in many ways with your academic writing.
The time and effort put into learning and using these features will:
help you with APA formatting, and any modifications your instructor may ask for, such as a Table of Contents,
automatically format your writing as required, for example, Times New Roman, size 12, double spaced,
save you time, for example, by using styles,
help you present your work in an academic writing style that makes you look professional,
help you structure your work, for example, using the Outline feature to get an overview of your work, and
give you Word skills that will be valuable if you continue a career in academia or have a career outside of academia.
Knowing how to make best use of Microsoft Word will greatly help with your academic writing in APA format.